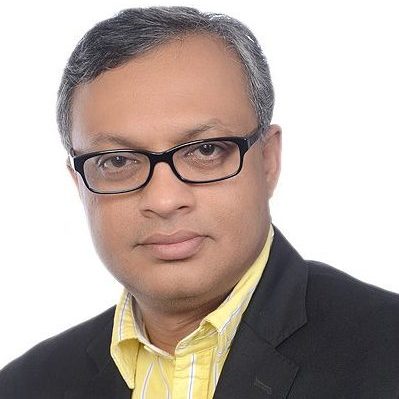 Founder - MentorKart & Co-founder of D4DT Inc. (USA), formerly IOT World Labs Inc.
Process oriented professional with prolific experience of over 25+ Years in:
Business strategy • Sales strategy and brand promotions •Investor Pitch • Investor Term Sheet • Cash flow management • Customer acquisition & Management • Startup scaling • Time & Resource Management • Recruitment & Efficiency Improvement • Work Allocation & Prioritisation • Quality Assurance & Improvement • Learning & Development • Performance Management •P& L Management • Team Management
* Entrepreneur I Business Coach I Mentor I Life coach I Public speaker I Start-up and incubation Mentor
* With more than 25 years' experience in successful business leadership, led teams and organizations to innovative, build, implement business solutions & products in the field of Technology and services for customers across 20+ countries.
* Ashish is startup & Incubation Mentor at 91 Springboard and many other communities to mentor many startups from idea to reality and growth stage in various industries and technology like IOT, digital transformation, Media, e-commerce, B2B to B2C and more. I have huge network of startups, professionals, investors from almost all verticals.Ashish also on the Advisory board of various startups in India and abroad
* huge experience working with individuals and teams (students, executives, or entrepreneurs) to help them gain self-awareness, clarify goals, achieve their development objectives, unlock their potential, and act as a future leader. He helped them Solve specific situation in life, business and achieve specific results.
* I have been involved with people to build a career path and working towards empowering people to enhance their skills and fulfil their dreams. Being an experienced industry business leader and mentor, he has recently launched Next Gen Mentorship platform (MentorKart) for various target mentee groups e.g. Students, Working professionals, leaders /entrepreneurs & Startups. This platform is launched and recognized by Startup India scheme under Govt. of India. Vision of this initiative is to provide everyone an ideal mentorship.
* Mentorkart was founded by Ashish and his team with mission to provide access to mentors for everyone on a digital platform with easy availability, where experts from various industries can be your mentor and get direct assistance from leading professionals across the globe. Overcome challenges to achieve your personal & professional goals, learn a new job-oriented skill and be successful. From one-on-one (1:1) interaction to Group sessions, MentorKart brings your number of opportunities to develop your key skills and helps you increase your employability, you can stay connected with your personal mentor to Create, track, review and achieve your personal & professional goals from anywhere! anytime! Mentees can Learn from best of industry veterans, Attend Webinars and Mentoring Sessions by Educational gurus, entrepreneurs to handhold you along your journey & so much more!
Professional experience:
* With more than 25 years' experience in successful business leadership, Ashish led teams and organizations to innovative, build, implement business solutions & products in the field of Information Technology for customers across 20+ countries.
* During his tenures at PC Solutions an IT consulting company having its business in many countries and strong consulting partners of companies like Microsoft, HP, IBM, Citrix etc, Ashish has grown from engineer
to Vice president and successfully created multiple business units within the company. He has built new business and led large team of IT professionals working in various industry verticals.
* After successful career as IT Professional for around 20+ years Ashish has decided to step into the journey of entrepreneur and founded IOT World Labs Inc knows as D4DT HQ based out of Seattle USA, D4DT developed and launched digital transformation platform for global market and acquired customers in multiple countries. D4DT runs on futuristic technologies like IOT, Machine learning, Artificial intelligence, big data. This global Startup is growing fast in a very short span of time of 3 years.
* During his entire professional career his colleagues applauded his strategic ability to plan and execute organisations vision, energetic leadership and strong team building capabilities. Ashish used a distinct leadership practice of 'leading through mentoring and coaching'.
* Technology Leader with end to end experience of building and managing innovative products & Professional services business; acquired various technical skills on the technology area e.g. IOT, Big data , Digital transformation , Cloud, System Management, Identity Management, Information Security, Business Solutions and Financial Management
* High-Performance Executive with expertise in business performance measurement & management framework, metrics and processes; undertook various process improvement initiatives to achieve maximum efficiency in various operations within organisations, Sales, Marketing, HR, and other Support functions
* Strong analytical, problem solving and decision-making skills; proven ability to juggle multiple priorities and achieve results; hardworking and goal oriented with a high degree of flexibility; energetic and self-motivated with willingness to learn, openness to change and thrive on challenges
Significant Achievements
* awarded with highly prestigious award of the organization "Leadership award for outstanding contribution to the organization "in previous organization
* Achieved average growth of 40% Year over Year for more 10 years
* Expanded team from 0 to 1000+ People
* Travelled across 20+ countries for business and gained extensive experience of working with customers across the globe in different industry verticals
* Successfully increased geography Presence of business across globe
* Instigated paper less operations, starting from all processes like HR, Project management, Time sheet Management, KRA's, Customer satisfaction, Profit and Loss dashboards, and various other support functions within organisation
* Accredited with "Celebrating leadership award "on 25th Year celebration of the organization